A Preset is an easy way to apply pre-defined styles to a component. For example, when you add a button, instead of configuring the color, size, font, icon and location for every button in your project, you can load a pre-set configuration that automatically styles all your buttons for you.
Some Components have a range of Presets included at the end of the 'Properties Inspector'panel that you can load, view and select from. You can also configure a Custom Preset, thus saving your own branded components for an easy and quick way to apply color schemes, styles and branding throughout your project.
Once you have added a component to your project, go to the 'Properties' tab in the 'Properties Inspector', and at the bottom of the whole panel press the 'Load' button to  open the Preset Selector.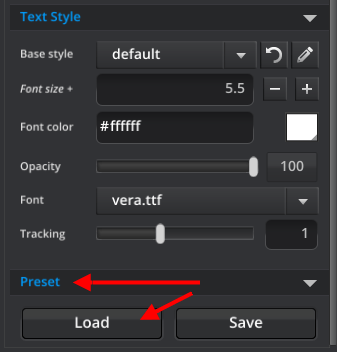 Here you will find tabs for Predefined and Custom presets, simply choose the preset you want to apply to your component from the Predefined tab or create you own and save in the Custom tab. The screenshot below shows the Button Component Presets.

Create your own Preset by building your assets, putting them in your 'images' folder and then selecting them in the Properties panel. The 'SAVE' button will enable you to name and save your preset under the Custom tab.