Umajin Cloud Services
Umajin Cloud Services provides a web-based service to manage your account, reports and content setup – including dynamic content, commerce/product lists and notifications.
What is the Umajin Cloud for?

The Umajin Cloud is where you configure the data you want to present to your customers /users and configure the data/feedback you want to gather back from your customers/users.
Logging In
To login to the Umajin Cloud Services, you can use the same username and password you use to login to Umajin App Creator. When you create a new app in Umajin App Creator it creates a matching app project in the Umajin Cloud. Each app project has its own Umajin Cloud Dashboard.
First Time Users
If you are a first time user there will be no apps in the App List of the Umajin Cloud. When you Login to Umajin App Creator, you will be taken straight to the 'New App Folder' where you can choose a new app format.
Login to the Umajin Cloud
Select the new app (the Umajin Cloud will always open at the app that you currently have open).
If you have already created an app in Umajin App Creator you can access Cloud Services from the File menu under 'Open Cloud Services' or use the right facing diagonal arrow in the Properties Inspector of any component that needs to link to the Umajin Cloud.
Dashboard Menu
The name of the app that the Dashboard belongs to is shown at the top of the Menu bar under the Umajin logo. The tab underneath –  'App List' will take you to a table displaying all your apps and their numerical ID. You can select another app and then you will be taken to the Dashboard for that app. The App List page also gives you access to your Profile, Download for Umajin App Creator and a Logout button.
Back in the Dashboard the welcome page has a link to the Help site and a 'Download' link. The App Summary below this shows you all the core information related to the current app and there are also tables to display Recent Orders or Form Submissions.
The other key sections listed on the left hand Menu panel are; Dynamic, Commerce, Communication, Publishing, Analytics, Cloud Files, D-Store, Profile, Downloads, Logout.
Note:To view how to set up Umajin Cloud Services for specific components within these categories, please see the videos and text written under the individual Component headings.
Dynamic: This section stores the Cloud Services data for dynamic components you have added to your app. The dynamic components could be:
Feeds/Animated Feeds: These feeds are data/images either manually entered into the Umajin Cloud or 3rd party feeds like Facebook or Twitter.  The feeds can be animated using a range of transition effects.
Dynamic Articles: Changeable articles that can be added to the Umajin Cloud.
Dynamic Forms: Changeable forms created in the Cloud Services and can be submitted back to the Umajin Cloud.
Simple Forms: A simple contact form that can be submitted back to the Umajin Cloud.
Quiz: Simple multi-choice quizzes can be set up and answers feedback into the Umajin Cloud.
In every case these components can have information and fields added and edited. Hovering over the question mark displays an  explanation of what each heading or entry is for.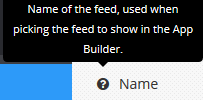 Commerce: This section maintains data for commerce components such as:
Store Lists: Maintain a list if you have a franchise with a number of stores throughout the country.
Products: Add your products with name, price, description, image etc
Product Lists: List your products in groups or categories.
Orders: Display orders customers have made.
Importing Products: Import lists of products.
Communication: This section lets you set up:
Email Templates: If an order is placed or a form submitted we can set up an automatic email to be sent to ourselves and/or the customer.
Push Templates: If we have set up a Feed to regularly refresh such as twitter posts then we can set up a push notification to customers every time it changes.
Push Notifications:  We can can set up a system to send push notifications to everyone who has the app.
Publishing: This section will hold your publishing information.
Analytics: The analytics relating to app visits can be installed here – Check out stats for Visitors in Real-time, Visits Over Time, Visitor Map, Visitors Overview.
Cloud Files: The Umajin Cloud Services site at your files repository.  This repository is where you can store files (such as html and associated images) for use in your apps.  These files are retrieved by the app when needed rather than being packaged in the installer with your app.  Note: these files require an internet connection for retrieval when they are first requested but will cache the images locally after this.  You are responsible for getting approval to use any third-party files you upload to this system.  You must obtain the right to use/store any files you upload to this service.
D Store: Data store.
Profile: This section holds your Profile of personal login data and can be updated and your password changed as required.
Downloads: Download the Umajin App Creator after agreeing to the EULA.
Logout: .This section logs you out of Umajin immediately.
NOTE: If you have already created an app in the Umajin App Creator you can access the Umajin Cloud Services using the File menu, 'Open Cloud Services' or use the right facing diagonal arrow in the Properties Inspector of any component that needs to link to Umajin Cloud Services.